The Robot Parade – Zeale EP Release (show review)
The Robot Parade show presented by Knuckle Rumbler was packed to capacity. I arrived to the Beauty Bar at around 10p.m. and there was already 100 plus people in the building.  In the inside part of the venue DJ Richard Gear was keepin' the party live, and the ladies were eating it up!
As I made my way to the back patio where all the live performances were going to be,  "GOBI" was setting up to perform.  Their set consisted of a lot of crazy digital sounds from their mpc, and a lot of call and response. I think those dudes drank 2 cases of red bull a piece before they hit the stage because they were HYPE!!  They rocked the stage till about 11 and next up to bat was "LAX".
LAX is a group of two female vocalist and a male on a laptop.  Their set was pretty solid, but they did have some trouble with their stage show. At times it seemed like the group forgot their lines, or the sound wasn't working properly. I dunno? LAX's set was solid about halfway through, but kind of monotonous towards the end.  The last song was amazing though :)
At the Golden Hour of Midnight "Zeale" and his DJ were preparing to bless the stage.  I was speaking to "Zeale" a week prior to this party and he warned me that his new sound and look is a little different… When him and his DJ / Producer hit the stage I then realized that "Zeale" is going for stardom.  His stage presence was most definitely on point!  He had the fog machines in effect, his mic strategically placed near his beat machine at the front of the stage, and he was rockin' some fresh gear from head to toe.  Zeale most definitely made sure that his EP release party will not be forgotten. As soon as Zeale started performing he had his blue neon glasses and his DJ's turn on simultaneously with the music. The crowd went absolutely ape sh*t when they saw that.  Zeale's years of hard-work and sweat have truly paid off and it shows. Below are some pics and a video of him when he entered the stage with his track called – Neon Glasses.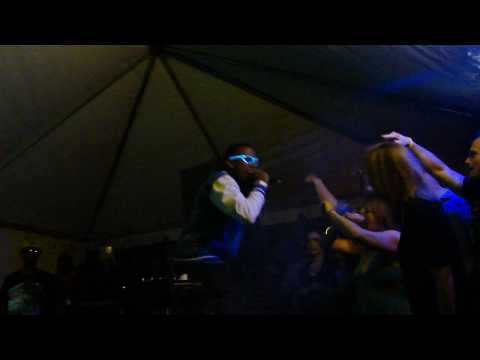 See You On The Flip-Side Good People!