Listen Global, Act Local & Los Rakas
Article by: Mamba
Video by: Mamba
Photos by: Mamba
On Friday, March 15 at Noon, I made my way to the east side of Austin, TX to attend this event called – "Listen Global, Act Local". This event was put together by Sol Collective out of Sacramento, CA, and located at this outdoor venue called Kenny Dorham's backyard. Just to give you a little history on Kenny Dorham's backyard, it was named after the legendary jazz trumpeter and East Austinite, Kenny Dorham. This venue is home to the Austin Jazz and Arts Fest, East End Summer Music Series, Soul Fest  and the Backyard Blues Series. This venue honors the traditional African American music community consisting of jazz, blues, rhythm and blues and gospel.
Upon entering the backyard, I was surrounded by art pieces that spoke of social awareness, militant action, revolution, community, grassroots music, leaders, teachers and consciousness. I felt so empowered just by entering the venue itself. This was truly a breathe of fresh air for me to find this gem in the Austin community. As I greeted some familiar faces, I heard words of upliftment and empowerment over the microphone. I'm not sure who was speaking, but I do recall hearing him talking about coming together and building a sustainable community. Shortly after speaking to some good friends of mine I made my way over to the vendors. A lot of the booth's I saw consisted of herbal remedies and books that speak about social awareness, movements and revolutions.
You no longer need Rosetta Stone,  All you need is Los Rakas
This event ran until 9pm, but I only had time to stay and catch this act called Las Cafeteras out of Los Angeles, California and they were amazing! Their style is an eclectic blend of  Folk, Acoustic, Caribbean  Cumbia, Hip Hop and Ska. The energy, tap dancing exhibitions and message they brought to the crowd was absolutely mind blowing. You should have seen the instruments they had, they were very organic.
I honestly have no words to describe the instrument listed above, let's just say it was an experience hearing it live! Las Cafeteras had everyone standing up, clapping, dancing and singing to almost all of their songs throughout their set. Can you say crowd control? In my research , I found they use folk music from Southern Veracruz, Mexico, as a tool to build autonomy, community and solidarity. How can you not want to support something as pure as that? As their set came to a close, they left everyone in high spirits and with a huge smile on their face.
Now as I stated before, I didn't stay for the whole event, but I did make my way over to Speakeasy to catch Los Rakas! They are a bilingual hip-hop group made up of Panamanian cousins Raka Rich and Raka Dun based in Oakland, California. Their style consists of a mixture of hip-hop influences with reggaeton, reggae, and dancehall.
These two gentlemen here just oooze out Oakland, California, from they way they dress, to their mic control to their slang. They rep their city to the fullest, and Austin, TX was feeling it! I'm not going to say anymore about these gents here, I'll just let you decide for yourself via the video recap below.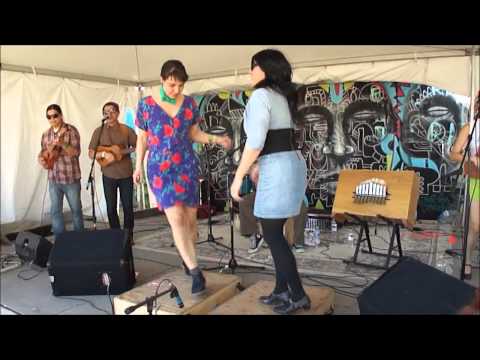 [nggallery id=33]