The Beat Junkies Had a Scratch Cypher & Diamond D Showed Off His Stripes
Article by: Mamba
Photos by: Mamba
Video by: Mamba
West Coast Legends The Beat Junkies make their way to SXSW to put on a top notch DJ Show. Accompanying them was DJ Expo and House Shoes who are also Los Angles resident DJ's. The event kicked off at 4pm and the first DJ on deck was DJ House Shoes. His set consisted of a lot of Dilla joints, original samples and some of his own production.
Next on deck was DJ Expo, and his set was a bit tropical mixed in with some underground hip-hop.
At 7pm The Beat Junkies began to spin a duo set. DJ Shortcut and DJ Rhettmatic turned the party out as they took turns spinning tracks back to back. Watching them spin felt like I was live at a DMC DJ exhibition. The track selection they choose was on point, and their consistent and smooth transitions were seamless. In the middle of their set West Coast hip-hop legends Opio, Pep Love,  A-Plus and Tajai had a freestyle cypher. If this isn't hip-hop, then I don't know what is! The unique wordplay and clever punch lines these MC's came up with was out of control. I'm still shaking my head in utter amazement from the bars they dropped. Another highlight of the beat junkies set is when they began the scratching exhibition. The way they transitioned into it was very organic and natural. When they're set came to a close the crowd was cheering and begging for an encore!
Later that night I returned back to the Hudson to check out the 45 sessions event titled – 2 Sevens Clash just in time to check out Diamond D. The other DJ's that rocked before him were the following: Supreme La Rock, Skratch Bastid, Natasha Diggs, Chorizo Funk, Secondliner, 100 Proof. E Da Boss, Platurn, Expo and JLA.  For those that don't know, Diamond D is a hip-hop legend from Bronx, NY.  He represents a crew called D.I.T.C, (Diggin' in the Crates Crew),  he's a producer, DJ & MC who's worked with Jazzy Jeff, Fat Joe, Big L, Busta Rhymes, The Fugees, KRS-One, Queen Latifah, & The Pharcyde just to name a few… During his set Diamond D spun some rare records and extended versions of songs that a lot of people haven't heard. The genres he played were funk, soul and little bit of classic rock. The way he mixed, matched, cut and scratched records was so damn funky and precise. At some points I thought he was going mess up on a cut or record change, but he flowed like water through his set. I remember looking into the audience, and seeing the dj's that played before him star struck and in awe by his craftsmanship on the turntables. The irony behind all this is, Diamond D almost didn't make it to the event. According to DJ Chorizo Funk, he was stuck in San Antonio without a ride to Austin. Luckily it all worked out, and he made it in at 1a.m……..
 Diamond D's 45's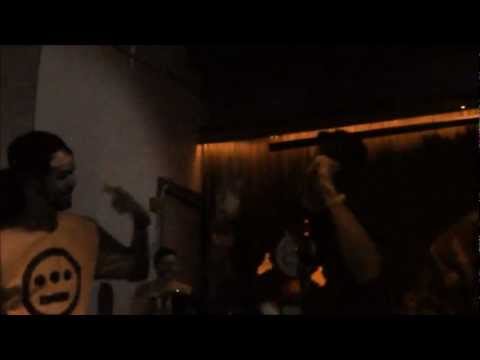 UPDATE – 3/25/13:
The Beat Junkies release the live recording from their set at SXSW 2013!
Click the image to stream the recording.