Brooklyn Boheme (documentary) & The David Lee Jones Romanticism to Brooklyn
By: Undercurrents & David Lee Jones
Brooklyn Boheme is a love letter to a vibrant African American artistic community who resided in Fort Greene and Clinton Hill Brooklyn during the 80's and 90's that included the great Spike Lee, Chris Rock, Branford Marsalis, Rosie Perez, Saul Williams, Lorna Simpson, Talib Kweli just to name a few. Narrated and written by Fort Greene resident Nelson George, this feature length documentary celebrates "Brooklyn's equivalent of the Harlem Renaissance" and follows the rise of a new kind of African American artist, the Brooklyn Boheme.
This community of artists made this part of Brooklyn a mecca for young black and Latinos, where they were bonded by great ambition, good times and jamming parties.
Brooklyn Boheme is a chronicle of that magical time as a flowering of great art made by black Americans. The documentary is a funny, joyous look at a time and place with charismatic storytellers and dazzling photography telling this amazing story.
Inspiring, dynamic and colorful, Brooklyn Boheme will make you wish, you too, would have been invited to the party.
Expected Release: Mar 13, 2012
I was so nervous and shocked at the fact that I had THE Gary Bartz on the phone that I had to write down what I wanted to say to him before I called.
My Uncle – David Lee Jones related to this film so much that he decided to write his own biography about his experience during that era:
Jason remember what I was telling you when I took you to Brooklyn of how it had changed totally since my days of coming up in Ft. Greene Clinton Hill..It's TOTALLY gentrified now with all these young white so-called "Hipsters". They wouldn't know "hip" if you showed it to them on their body…lol
I was so excited from seeing it that it sparked me to start writing my Biography. Those were some great years in Brooklyn. I really hope this becomes a film. It needs to be documented. That period was invigorating and full of culture. Looking back, It was truly a Renaissance period. When I first moved from Houston in 1980 to go to Berklee, Ft. Greene/Clinton Hill area was where my brother Andre (Peedro as we called him) lived on Washington Ave at Fulton Street..(Actually two blocks St. James Pl. where Biggie Smalls grew up and where all those young soon to be "Junior Mafia" click of kids would conglomerate.
I bought a ticket to New York to hang with my brother Andre for a week before going to check in at Berkeley in Boston..I remember arriving with all those bags..Scared as hell of New York..and proud of my brother that he was really doing his thing in the Big Apple…Speaking of apples, I was greener than Kermit the frog. 21 yrs old and "Country from head to toe". Big Afro and Platform shoes….New Yorkers would look at me and tell that I was straight from the sticks my face showed it..New York was a hugh culture shock for me, but I felt very protected because I was with my brother.
Andre had this studio apartment in Ft. Green. It was so small that my bags barely fit in. When I first walked in, I remember say, "Where do I put my bags…and Where's the rest of the apartment?"..It was a shock to me that someone could live in a space so small. But hey, I was loving every bit of the shock and excitement. This was "wild" as New Yorker's would say and I loved the adventure of it. Andre was "my brother's keeper". He was full and vibrant as very much into his acting and I was proud and so was he that his younger brother had left home and decided to come East. My emptiness that I had when I was in Houston was no more. Being in New York, I knew that I was on the right path and the time was right.
It was big city excitement and all I could think and juxtapose in my mind was all of those Blackploitation movies that I had seen (Shaft, Superfly, Claudine, ect.), Now I was actually in the city where they were all filmed. I was seeing so much so fast, that I was a bit overwhelming to process at first from the culture shock, but after as few days It started to set in…and I was like actually being in those movies. Andre was attending a school in Manhattan on Madison Ave. & 65th st. called the American Academy of Dramatic Arts (there's one in Los Angeles as well). When I went to the school for the first time it was so exciting. Young student actors vibrant and full of high energy, Everybody sharpening their craft. I felt so much energy and excitement that it was too much to digest. I remember looking at a muriel on the wall that had a pictures and names of alumni such as; Robert Redford, Sally Fields, Elizabeth Montgomery and many more famous Actors. And I remember saying..WOW!…they went here?….
I would go and hang out with Andre at the school and see him in action in some of his acting classes and attended a few plays that he was in. EVERYBODY that Andre would see, he would introduce me to them…"Hey this my brother, he's a musician and he's going to Boston to Music School"…I can still remember how I felt every time he said that, It made me feel so special. Andre was a very popular guy at this school. Everybody that came around him would greet his as if he was a star or something..I was tripping on that..Like wow…My brother's really famous around here… I can't tell you how much fun we had in just that one week. I was so proud of my brother. He was my spark. My Hero. Little did I realize that the place where I was going, Berklee College of Music in Boston, was going to also be the greatest Renaissance period of those times. This was a time when people like Kevin Eubanks, Branford and Wynton Marsalis, Rachelle Farelle, Najee, Wallace Roney, Regina Carter, Don Byron and a million other people that made quite a name for themselves. I knew that Quincy Jones had went there, and that was enough for me. He was one of my biggest idols along with John Roberts (my high school Band director)..They were incredible writers and arrangers, and that's what I wanted to learn how to do; and learn how to play jazz.
Everybody who left Berklee went to New York..(most people didn't stay the 4 years because the were so good that they ended up taking on professional gigs and left school)..Boy, I cant tell you how intense it was then at Berklee…It was non stop playing and practicing 24/7…The competition was fierce and everybody was there sharpening their craft immensely. We breathed, ate and slept with music. I would go to New York on my spring and summer breaks and hang with Andre..He was "the man" at his school..Very popular and known as being a good actor.New York had so much culture. I remember the first time I spoke to a black person that didn't speak English….Talk about culture shock?…. When I graduated Berklee in 1984 I moved to New York. That summer that I moved, Andre married his wife Valerie a couple of months before, and they moved into an apartment on the other end of Washington Ave, sort of on the border of Ft. Greene and Clinton Hill. I ended up moving in with some of my college room-mates on Adelhpi St at the corner of Dekalb Ave. This was 2 blocks from Andre and Valerie. We were sort of neighbors, and it was great.
Incidentally, that block where Andre lived is the same block where Rosie Perez lived or still lives. EVERYBODY lived in Ft. Greene- Clinton Hill. I remember going to parties and see guys like Wesley Snipes, Lawrence Fishbourne, Samuel Jackson, Spike Lee, Chris Rock ect. and hundred more of people that I would turn on the TV or go to a movie and say.."Wow that's that dude that I saw at the party"…Spikes father Bill Lee (bassist) still lives on Washington Pk. (on Ft. Greene park) and he had a big band that used to rehearse in the basement of his brownstone and I use to go to the rehearsals….I would go just about every-day to that corner store (bodega is what they called it) and run into Michael Evans ( J.J.'s little brother on "Good Times"), or just walking down the street would be Spike Lee waving at us. Betty Carter, Cecil Taylor, Gary Bartz, Wesley Snipes, Lawrence Fishburne, Rosie Perez and hundreds of other musicians, actor, poets playwrights, painters, sculpture artist ect. and more… all live in the hood. It was deep and intense.. I remember one day calling Branford Marsalis' apt to speak to him about something and a guy answered the phone. He said his name was "Guru" and he had a group called "Gangstarr". He said Branford was not there and that he was staying there while Branford was out on the road. He was very nice and I left a message. Then a few weeks later I saw a video called "Jazz Thang" by a group called "Gangstarr" on TV and I said.."Thats the dude that I talked to on the phone..wow!. He would later call himself "Guru".

Gary Bartz was one of my biggest influences on the Saxophone at the time, and I heard that he lived in the hood and somebody gave me his number and I called him to try and hook up to hang…I called the number and he answered the phone…I was blown away..Wow I'm on the phone with Gary Bartz. I remember I had a Cannonball Adderley record playing in the background ( It was the one "Live in Paris with Yusef Lateef) and Gary asked me what was I listening to and I told him, but I was so nervous and shocked at the fact that I had THE Gary Bartz on the phone that I had to write down what I wanted to say to him before I called. I didn't have "the gift of gab" like most successful people.
I introduced Andre to a Gary Bartz record that I used to listen to all the time. Its album was entitled "Music Is My Sanctuary"..I used to play it around the house repeatedly when I lived in Houston and Andre loved it as well. Whenever he used to hear it on the radio (WRVR, a great radio station at the time that eventually went country and pissed everybody off), Andre would say, "Man, I heard "Music Is My Sanctuary" on the radio, and I knew you were coming to town".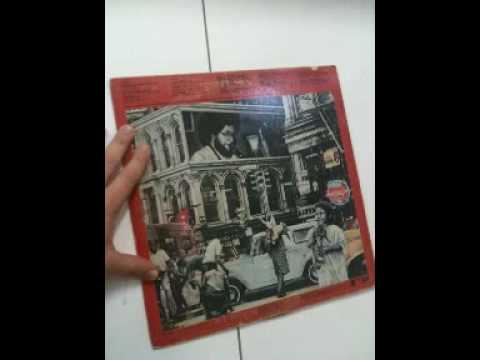 When I finished Berklee College Of Music in 1984. I applied for the Boston public School System to sub teach. I did for a few months before I moved to New York. There were some "bad ass" kids at that school. It was in the hood. Right next to some Housing projects named Orchard Park Housing Projects. I remember some kids there who were from those projects that were "terrors" and I know that they were not going to amount to anything. About a year or so later I see them in the media singing a song called "Candy Girls"…They had a different name that I cant remember what it was but they had to change it because they were being sued over it…They changed it to New Edition….I guess I learned something as a teacher.
When I moved to NY that summer of 1984, I applied to the New Your school system. There was this school that I used to sub at called Sarah J. Hale High School. It was like a circus there. There were some kids there who were "Bad as Hell", and I know that they weren't going to amount to anything. Years later I would end up seeing these kids on TV and on radio. They were The Notorius B.I.G. and "Little Kim".
This period in Brooklyn was definitely a period paralleled to the Harlem Renaissance. If not, more intense than.
Iam blessed, humbled and grateful to have been there at that time.