The International Dance Traveler Yung Chris Speaks::: (interview)
Interview by: Mamba
Header photo by: Kwestro
Yung Chris was Born and raised in Houston,Texas, Yung Chris has spread his wings across the world through dance. Performing as "YungChris INTERNATIONAL," he has taught and danced in dozens of countries ranging from Lebanon, Syria and Palestine to Nepal, Kyrgyzstan and Mexico. His training includes styles of dance such as African traditional, jazz, and all style of Street Dance such as Hip Hop, B-boying and House. This versatility lends a unique edge to his style as both a teacher, choreographer and performer. We here at Boy-Cott Magazine had a chance to interview him for your viewing pleasure.
Enjoy the magic:::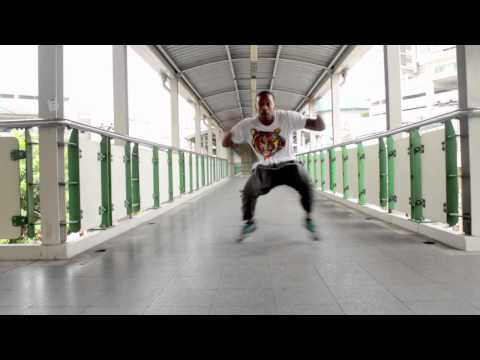 Boy-Cott: How's life overseas been treating you?
Yung Chris: Life is treating me well here in Bangkok, Thailand. It's the most inconsistent place in the world.  No 2 days are the same, keeps me on my toes. I think that's what I like most about it, it's raw. Every morning I thank God for the amazing journey I'm on in this chapter of the life I'm living.
Boy-Cott: Every dancer was inspired to start dancing from someone or something. So my question to you is, who or what got you into dancing?
Yung Chris: Back in the 80's when Soul Train was popular, as a baby I got really excited when the Soul Train went across the tv screen my mother told me. At 7 years old she signed me up for an inner-city dance team called the "Acres Homes Dance Company." Where I learned Jazz, African, Swing, Praise dance and Hip-Hop. I still remember the things I learned then and use them now. FOUNDATION!!!
Boy-Cott: You recently picked up a clothing sponsor. What is the name of the sponsor, and how did this all come about?
Yung Chris: That's funny you ask, I actually sponsored myself. I'm not a person who waits for opportunities, I create them. As an artist your constantly looking for something that represents you and what you stand for. One day I stopped looking and thought no one can represent me better than I can so I decided to invest in myself. Joel Martinez from Havikoro Crew designed the logo and then BAM! Dream to reality.
Boy-Cott: Out of all the dance styles you know, which one do you connect to the most?
Yung Chris: Ewwww that's hard to answer lol. My mood changes like the weather and so does my dance and the style of music I'm feeling at any given moment. But to be honest I'm in love with House music. Why? Because it's free, it allows the mind to tap into the creativity that's driven by the foundation of the dance. WORK!
Whenever the door opens up for ministry I run through. God gave me a platform, I'M USING IT!!!
Pages: 1 2