:::SXSW 2010 Day One Recap (March 17th):::
As Kwestro and I embark on another SXSW journey we expect nothing but amazing shows,experiences,and good times. We arrived in Austin @ 3p.m. and headed to our first gig @ Sole Fresco, which is a new fresh urban clothing store on 6th st. Since we arrived kind of late we missed Phranchyze's set, but we did manage to get some prime networking in and partake in some free beverages=)
The next order of business was to hit up the beso catalina to check out Master Blaster which was hosted by a member of the Pharcyde – Imani. They were quite the interesting trio as they infused elctronic and soulful sounds in one. DJ Chicken George was also on the bill and he rocked the crowd with back to back authentic hip-hop tunes for days.
After a few head noods and after watching the "The Hills" fan club bum rush the bar in all green because it was st. patricks day. We headed to our next destination- Creekside Lounge. The time was 8:30 p.m. and Kwestro and I decided it was time for intermission. So we met up with a couple of friends @ Creekside, shared some drinks, laughs, and checked out this group from the UK Quebec called Radio-Radio. They put on quite a show that made for a good time.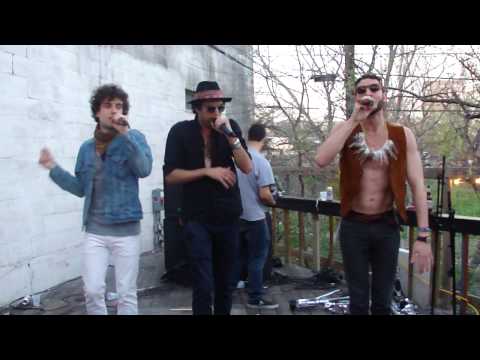 In the later hours of the night we decided to check out the Stones Throw/Converse 45's show which consisted of the following DJ'S – Amir, 14KT, Dam-Funk, PB Wolf and Madlib. The event was hosted by DJ Rhettmatic and it PACKED, LIVE, and people were gettin' down with the get down:::
The last events of the night that we checked out were The Gigacrate show (DJ Jayceeohh, Nicknack, Bird Peterson and Friends), DJ Fashon @ Lucky's Lounge and DJ Lars @ The Lanai Rooftop. I still can't believe this is only Day 1 of SXSW! The best is just to come…