Boy-Cott Magazine Invades NYC! (October 7th-10th)
By: Mamba
New York – New York – New York. The place where artist, entrepreneur's and activist migrate to pursue their passion to the fullest. Despite what you might have heard about people being assholes there, it's not true. People in New York are just blunt and to the point. They are extremely conscious of who they are and what they stand for. My trip started off a little rough because I got a little nauseous from my flight, but that soon ended after I got some fresh air and good food in my system. My first order of business was to get to the b-boy jam in Brooklyn, and boy was traffic a pain in the ass. Everyone honks at everyone religiously in New York, and I mean EVERYONE. If I lived in New York I would most definitely NOT own a car, and depend strictly on public transportation. Once I finally arrived at the jam I witnessed some of the most incredible breaking I've seen in my life. B-Boys in New York  truly rock the beat and they have a lot of rhythm and soul when they break. The b-boy jam is titled -"Evolution" and it's an international competition that attracts b-boys from all around the world. There were over 40 different countries represented, and the level of talent was ridiculous. I participated in the jam Friday and Saturday, and then proceeded to my next order of business which was the nightlife scene.
Saturday night after the b-boy jam I headed to Times Square in Manhattan to check out the festivities; and when I arrived I then realized why they call it the big apple. In every crevice and corner of the city there's huge billboards, flashing lights and people partying like there is no tomorrow.  As I ventured throughout the city I saw the following: the building to the David Letterman Show, a live mime, ABC, the Hard Rock Cafe, The B.B. King Theater, etc….. I ate food from a variety of different cultures, and connected with people of different cultural backgrounds.
New York is so colorful and beautiful :)
On Sunday (oct. 9th) I woke up early to check out the movement at Wall St, and right when I got off the subway I stopped dead in my tracks…. Now, it's one thing to see the events through the internet or television, but being there is a totally different story. There were 13,000 people protesting, chanting, marching and camping in Zuccotti Park that day. The people are extremely SERIOUS about getting their point across to the banks, government and other corporations. They have single-handedly set up a kitchen, cleaning duties, a cleaning system, a garden, shelter, rain protection, panel speaking times, marching times, weather updates, medical attention, etc…..After documenting, talking to people and connecting with them, I now have a deeper understanding of the current issues at hand. I even marched and protested with them around Wall St, Chase and JP Morgan.
After being uplifted, educated and motivated I met up with my Uncle in Harlem to check out his Jazz night. Once I arrived in Harlem I made a small pit stop at the Apollo Theater to snap some more photo's. Harlem is most definitely a black and proud area that is a must see. The city consist of a lot of mom and pop shops, old music venues and fast food galore. Heck, I even passed by Doug e Fresh's chicken and waffle restaurant. Who knew he would go into that business? Ha!
Once I finally arrived at The American Legion 398 venue where my Uncle was playing, I mistaked the establishment for an apartment. All the buildings in New York are cramped up on each other, so it's really easy to miss your destination. To enter the building you had to walk underground to this basement converted into a venue. Upon entering the venue I felt like I time warped back to 1975. The amount of soul that establishment has is beyond measure..It's a cash only bar, they serve soul food and liquor is served through Amber Glass Bottles. Talk about an experience of a LIFETIME! The artist that performed with my uncle are still preserving that 1970's jazz / soul sound. I feel so blessed to bring this experience back to Texas! The stories that I heard about the 60's riots, old pimps, gangsters would rattle your dome. You'll have to ask me in person when you see me :)
The event ended at midnight, and afterwards I headed over to this reggae club called "The Shrine". After downing a few Red Stripes I proceeded to enter the dance floor to feel the vibes…. The DJ was on point and the bar was decorated with African Tribal Art and records. Oh man that was a wonderful site to see!
On Monday (oct. 10th) the last day of the trip, my uncle and I decided to venture out into his city – "Newark, New Jersey". We had breakfast at this local establishment called – "Kings Dinner" and the food had me drooling on every single bite. We spoke about politics, my New York experience and my plans in the next 5 years. Shortly after breakfast he showed me around his neighborhood, told me some stories about the Italian mob, and I photographed a lot of the history of the city.
All and all my New York experience was GREAT! I did NOT want to leave, but all good things must come to a close right???
I hope you all have enjoyed New York through the eyes of Boy-Cott Magazine, and I hope you enjoy the pics and video below!
Thanks for reading!!!
[nggallery id=16]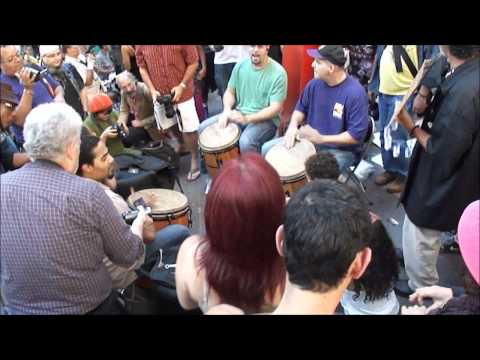 Oh and I want to give a HUGE SHOUT-OUT to Bryan Smith, Belinda his girl and my uncle for letting me crash at their places!
Thank You – Thank You – Thank You!!!