Whitney Houston's 'Nothing But Love' Tour Off To Rocky Start
by: billy johnson jr.
Whitney Houston's return to the stage has been plagued with sub-par vocals since her performance on Good Morning America in August to promote her latest album, I Look To You.
Unfortunately, the singer once praised for her exceptional vocal talent was still struggling with singing live Monday when she opened her "Nothing But Love" world tour in Australia.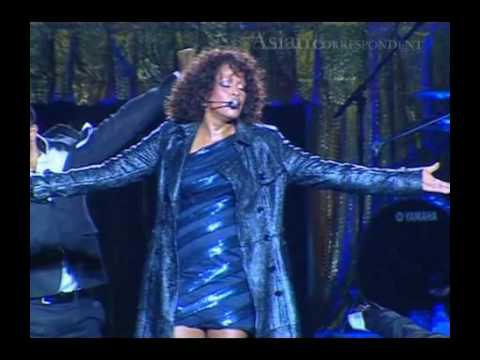 According to a review of the concert, Houston needed to take a break two songs into the show. She reportedly coughed through songs, and at one point had her brother take the lead.
When Houston attempted to sing her most notable hit, "I Will Always Love You," she stopped mid-song to get a drink of water. She ruined the song's popular high note, sounding like a bad American Idol audition contestant.
Concertgoers were said to have walked out of the Brisbane Entertainment Centre. Australia's Channel 7 interviewed several angry patrons, who described the show as "the worst concert I've ever gone too," "disgraceful," and "definitely not worth $165."
Houston's publicist released a statement Thursday responding to the critics. "Whitney is in great health and having a terrific time on her tour and with her fans," the rep said, AP reports. "The spokesperson said that Houston's Brisbane show had more than 9,000 attendants, and the Acer Arena in Sydney welcomed more than 12,000.
"Her fans were dancing and singing along with her, and Whitney appreciates their support," the spokesperson added.
Back in November, I blogged that Houston should keep on performing to rebuild her chops. Considering her battles with drugs, it has clearly taken a toll on her voice.
I hope her condition improves. I admire her confidence. But it is going to take some time for her to recover.