Bubble Goosin' w/ Chesney Snow (interview)
First and foremost, I want to say that beat-boxing is not dead in hip-hop and Chesney Snow is living proof of it.  This New Yorker has really bridged the gap in music with his beat-boxing. Snow has done collaborations with Orchestra's, famous singers and song writers such as Kayah and Kate Havnevik, and Hip-Hop MC's: Eternia , Asher Roth & KRS-One  just to name a few…. With a relentless grind, drive and a Super Supportive Wife (Magdalena Snow) in his corner, it's no question in mind that he'll be limelight in no time. Ladies and Gents, I present to you a man who is honing a talent that is been pushed by the wayside, but it's alive and kickin' in his heart, mind and soul. Without any further ado, I give you The Chesney Snow interview::::::
Boy-Cott: How's life in the East Coast these days?
Chesney: Things are good. The sun rays are shining the past few days which makes me feel better. You know it's been cold and gray lately in BK. People always think I love the snow, truth is I only like it for like the first day or so. Then it begins to look like piles of dirt stacked up on the street corner. But when it snows in the burbs or country side I do love it. Guess I'm just longing for the summer.
Boy-Cott: You and Eternia recently opened up for KRS-One. What was going through your head when KRS pulled you out of the crowd to perform with him?
Chesney: There were a million thoughts going through my mind but I'll stick to say three. First I was thinking "WTF" because I had dreamed it. It was like prolonged dejavu. I saw KRS play at the Zulu anniversary this past year about a month earlier. I remember looking at the moon a lot on my way to the venue cause it was my birthday night. On powerful nights for me I always observe the moon very closely. So a month before the night of the show you are talking about, Afrika Bambaataa told us that we could promote our software and new beat machine at the Zulu party so we did and I got to see KRS perform for the first time. I was blown away. I was like a kid again listening to Hip Hop for the first time. He came off stage and just started killin it right there in front of me. There were cameras everywhere, every angle I was in another world, like history happening live. I started day or night dreaming rather that I was rockin with him right there. Then all the speakers blew out with a loud crackling noise and he just kept it moving without the mic and I'm standing right there by him thinking…I should just start beat-boxing now, then something inside said "it's not the moment". Then at Southpaw just a few minutes after I turned 31 the next thing I knew I was on stage with KRS One thinking "where is Eternia?" and 'wtf, I'm about to make history'. It was incredible. Definitely a highlight of my performer life and a deeply impacting learning experience for the soul. KRS One was very gracious and kind afterward and I'm really looking forward to building with him.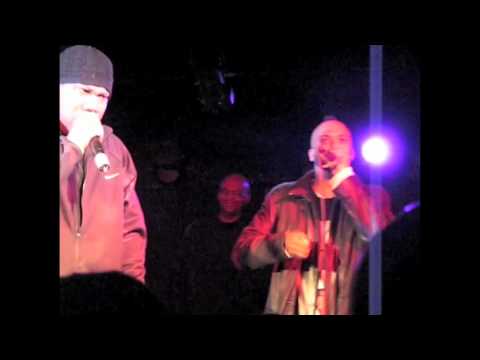 Just a few minutes after I turned 31, the next thing I knew I was on stage with KRS One.
Boy-Cott: I heard you got picked for the finals of The American beat-box Championship. Can you give us an update on that?
Chesney: Well the story behind the American Beat-Box Championship is that I'm actually producing and judging them. It's going to be part of the 6th International Human beat-box Convention that we are bringing to Brooklyn. It's going to be a weekend full of Hip Hop, a festival of film screenings called Street Sounds produced by The Smalls. The festival is judged by top film and tv producers including executives from Sundance Channel and A&E, and an international photo exhibit centered on photographing the human voice curated by Owen Fegan who is Design Director over at Rolling Stone, Laura Crosta an amazing photographer, and Whitney Johnson who is the photo editor over at the New Yorker. I'm partnering up on this exhibit with my folks over at Cypher Lounge Radio I hope you'll be there it will be sick. B-Boys and Girls, live art, music, panels, battles, photo exhibition, feature exclusive film screenings it's going to be incredible indeed. We are going to begin making more announcements soon .
Boy-Cott: Before you were beat-boxing, where you an MC?
Chesney: Well technically speaking I'm not sure as far which I actually did first. I got serious about being a poet/MC before I got serious about the art of beat-boxing. I guess I always associated the two together. In terms of hip hop elements, they both hold such immense reverence to the MIC.
Boy-Cott: What's one of your most founded memories of beat-boxing in your younger years?
Chesney: It was deep in Eupora Mississippi, a town of maybe 2000 people. In the rural back woods; black and white projects, sitting on my front porch. This was back in 89′-90′. Me and my cousin Bobby Bingham (B) started our 1st rap group called BDL for Bad Definite Lyrics, ironically we were inspired by BDP. I would be beat-boxing and beating on buckets for the beats and we would make entire songs that way. Sometimes we would break into the laundry room to beat on the dryers to get that big sound. That's when I wrote my first rap song called "Anyone Can Die Young". We were into storytelling then. Those were my most memorable times beat-boxing and creating as a child. Man, Bobby was the biggest inspiration for me getting creative in my younger years.
Boy-Cott: At what point in your life did you realize that beat-boxing is your gift?
Chesney: Wow that's a great question. I think I 1st realized it about 3 and 1/2 years ago when I started perfecting my snare sounds. I would have numerous beat-boxers and musicians coming up to me asking how I do the snare sounds and saying your snare sounds so real etc. the reality was that I had developed one of the illest snares in the beat-box genre, my significance in the beat-boxing culture and history was crystallized to me then. It is definitely a gift that I'm very thankful for.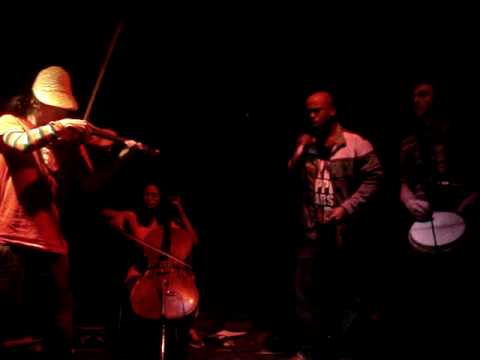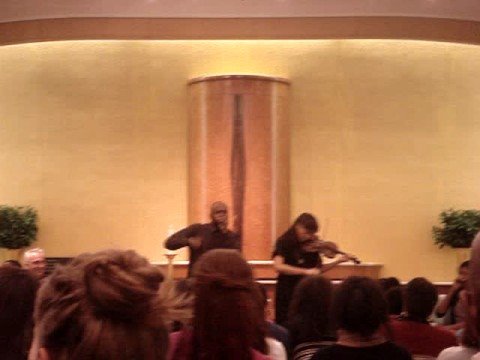 Boy-Cott: When you're practicing beat-boxing, how do you get in the zone?
Chesney: It may sound crazy but I see beat-boxing at it's core to be about vibration. So when I'm practicing I imagine I'm connecting to vibrations within my imagination. Then I simply spit that vibration out with my voice and movement. I think movement is a large part of the sound expression. That's why I love freestyles or improvisation it's the mental and physical movements. There is a magic that happens during the act of creation that I get high from. It's like making love in a sense because the feeling of the moment is so intense and the roar of the crowd at the end is like a climax.
There is a magic that happens during the act of creation that I get high from. It's like making love in a sense because the feeling of the moment is so intense and the roar of the crowd at the end is like a climax.
Pages: 1 2