Kweli Captivates The Crowd w/ Infectious Lyrical Wordplay (recap)(10-7-10)
Article by: Mamba
Pictures by: Mamba
Video Footage by: Mamba & Da'Shade Moonbeam
Once again the BK MC Talib Kweli came to Austin, TX and left the crowd in high spirits and educated.  I arrived at the Scoot Inn around 9:30p.m. and there was already 75 people in the place to be. On the wheels of steel was one of Austin's well known DJ's – Chicken George.  He most definitely set the mood for the night as he curated some classic down-tempo hip-hop hits from A Tribe Called Quest , to Erykah Badu, to the Almighty Slum Village.
Next up to the plate was one of Austin's greatest DJ's who is a bit underrated, and he goes by the name of DJ Chorizo Funk. Chorizo Funk brought the damn ruckus as he chopped and juggled a lot of new underground hip-hop and some classic hip-hop. He played some Black Milk, Little Brother, Pharoahe Monch and The Roots. When Chorizo touched the wheels of steel the crowd instantly gravitated to the front of the stage like a magnet, and they began to sing along and rock with him.
Shortly after Chorizo's set, Riders Against the Storm were preparing to perform accompanied by their DJ – Boombaptist. They began their performance with something a little bit different than I'm used to. I believe the track is called – "Power"  because they kept referring back to that word throughout the track / speech. It's basically about how your 9-5 takes away your power and uses it to power their operations. It was a  pretty powerful track that got people involved quickly. The rest of their set consisted of a lot of tracks of their debut album "Speak the Truth" , and a lot of energy in their performance. Riders Against the storm most definitely woke the crowd up and let them know they're at a Hip-Hop show.
After R.A.S's top notch performance, one half of The Blacklisted Individuals (Da'Shade) was preparing the bless the stage. Now before I get into this I just want to say that Da' Shade shocked the shit out of me with his performance. Especially with his poem he performed called "Let This Be The Beginning".  The first track he did was so militant and powerful I almost shed a tear. From the way he grips his mic to the way he conveys his message to the people leaves me without a doubt, that this brother could easily be in the ranks of Nas and Public Enemy. Later in his set he performed his well known track "Dance Sucka", and that's when the crowd went berserk! Accompanied with him on stage for that track was B-Boy city's own – Romeo Navarro and Roger Davis. When these two B-Boys hit the floor the crowd oooo'd and ahhhh'd as they displayed their perfected craft in the tiny space they had to work with. That's when you know you're a bad ass dancer.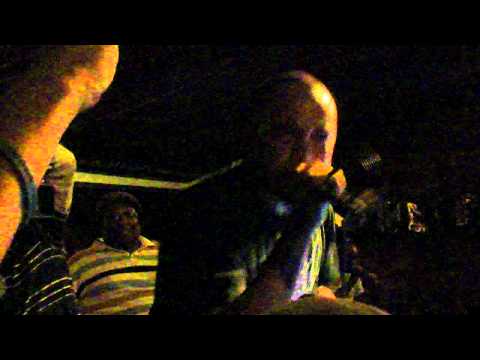 After an eye opening performance from The Blacklisted Individuals, Crew 54 was in the dugout preparing to embrace the stage with full steam! The first track they did is most likely going to be on their new mix-tape coming out called – "Slap Rapz", or it could have been something they did just for the show. The beat they performed to was super producer s1 's beat called – "Super Negro".
[audio:http://www.boycottmag.com/media/Symboliyc One_Supa_ Negroid.mp3]
Now, after playing that beat and damn near breaking everything in your site, imagine how Crew 54 rocked that joint! They had the crowd in damn near mosh mode half way through the song. The rest of their set was on point, and they even invited CientifiQ to the stage as they performed their new track – "Good Liquor".
At the Golden Hour of midnight Talib Kweli had one hell of an entrance as he bum rushed the stage to let the people know that he was here to give them a quality show. Kweli who was accompanied by his producer / DJ – Hi-Tek gave the crowd exactly what they wanted, nothing but classic joints! Kweli performed Definition, Move Something, Say Something, The Blast, Black Gold, In This World and Get By just to name a few. The show ended around 1p.m. and people were so hype from all the performances that they kept on partying!
Thank You Kweli for Keepin' Authentic Hip-Hop Alive:::::