Raekwon "The Chef" Served Up Some Flame Broiled Lyrics in Austin, TX (show recap)
Article by: Mamba
Photos by: Kris Sears (Kinetik Cinematix)
Video Footage by: Dookie Vizion Productions
June 18th was a beautiful, sweaty, and humid night at Emo's Lounge in Austin, TX. The Legendary Raekwon hasn't been in Austin in 7 years, but he most definitely made up for it as he brought the mutha – fu*kin ruckus!  I arrived at Emo's around 10:30, met up with Crew 54 who was one of the openers for Raekwon, and jammed out to some classic hip-hop tracks courtesy of DJ Notion.  After a few brews, some networking and some good times with some of my peeps, R.A.S. (riders against the storm) was the first act to rock the stage.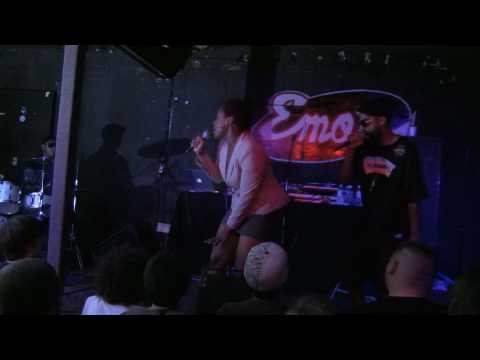 R.A.S. most definitely brought the energy to stage during their set. They had the crowd involved, they were doing old school dances and you could tell they were having a blast. It's always a beautiful thing to see an artist really get into their music. R.A.S's set consisted of them performing a lot of tracks from their debut album – "Speak The Truth". The only downside of their set was the muffled mics, and them performing 80 percent of their songs over well known hip-hop beats.
Shortly after R.A.S. was Crew 54 and they brought the heat just as equally as R.A.S. did. To be honest and not even being a  bit sarcastic, Crew 54 rocked as hard as Raekwon. No bullsh*t.  When G-Christ and M.O.S. of Crew 54 dropped their first track the people in the crowd went berserk!  Their set consisted of 3 out of six tracks from their new e.p. – Channel 54: The Reality Show Tape & some tracks of their first album – "Beaters and Babies".  I was so krunk I didn't realize I could sweat so much. I seriously thought I was going to sweat myself to dehydration.  Haa.  Just when I thought their set was over, they performed "Drop Them Mics" which is a m.o.p. – ante up themed song.  If  you didn't  know, "Ante Up" by M.O.P. is banned in a lot of clubs in New York because of so many incidences that break out when it plays. So you best believe every person in the building went completely "Ape Sh*t" when Crew 54 performed "Drop Them Mics". After the 54's set if I wasn't such a big Raekwon fan, I could of left the building satisfied.  It was that LIVE!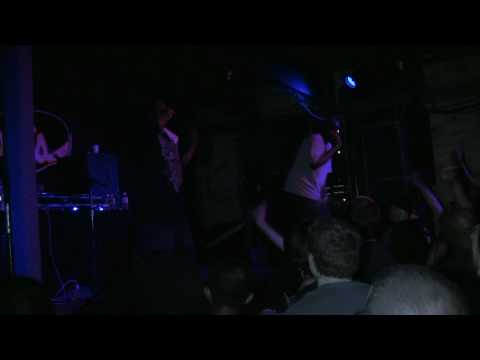 Next up to bat was West Coast Legends and Project Blowed Family Rifleman & Riddlore. They did the damn thing for about 30 minutes. Rifleman & Riddlore  set was all freestyle's and the crowd most definitely was feelin' that West Coast Flavor. After listening to Rifleman & Riddlore chop their rhymes in a syncopated accelerated pattern, I was ready for Raekwon.  In true Wu-Tang form Raekwon had to make his entrance properly. Raekwon 's DJ got all set up, got the crowd hype and Raekwon enterted the stage at 12:30. Now, as I mentioned earlier, Raekwon brought the mutha fu*kin ruckus! He opened up with a wu- classic – C.R.E.A.M. and from then on I knew his set was going to be unbelievable. The signature wu hand symbol was in the air by every individual in the place to be! Raekwon's set consisted of old wu-tang tracks, songs from Cuban Linx 1 & 2, and some joints from the Vatican Mixtape. Raekwon truly knows how to connect to the fans as he stated the following –  "I Love Rockin' Small Venue's like this, it's more of a Personal Connection to the People" & "Austin Has The Best Weed".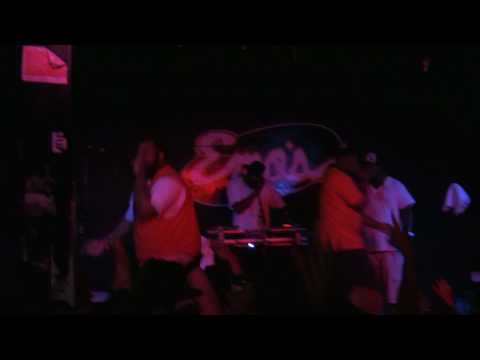 The rest of the night consisted of constant wu symbols in the air, dudes wild n' out uncontrollably and more Austin drunkenness as Raekwon finished his set.
Until next time Boy-Cott Fam…
:::Peace and Hairgrease:::